TUNEDIN.LONDON
LIVE MUSIC in the film world's best kept secret:
SANDS FILMS STUDIOS, ROTHERHITHE, LONDON SE16
and one performance in ST MARY'S CHURCH, ROTHERHITHE
Tickets: £14
At Sands: Tea & coffee included with your ticket.
Come early/stay late for stronger beverages in the local pubs!
Sands Films Studios, 82 St Marychurch Street, Rotherhithe, SE16 4HZ
St Mary's Church, St Marychurch Street, Rotherhithe, SE16 4JE
SEPTEMBER-DECEMBER 2017
---
SIOBHAN WILSON
Wed 20th Sep, 7.45pm (doors 7.15pm), Sands Films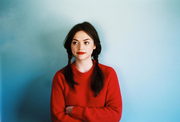 From the Scottish Highlands to France and back again, singer songwriter Siobhan Wilson is known for her heartbreaking voice and devastating lyrics. Her new album offers a brooding and melodic side to her beautifully orchestrated songs, charting through moments of intense emotions, deep thoughts and blissful memories. With dreamlike vocals and simple arrangements, "She can silence a crowd with little more than a whisper." (Daily Record)
---
"UNA DANZA PARA VIOLETA"

Thu 28th Sep, 7.45pm (doors 7.15pm), Main Stage, Sands Films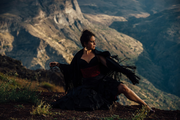 The 100th anniversary of the birth of the revered Chilean singer songwriter Violeta Parra is being marked by Chilean communities around the world. Fellow Chilean Natalia Garcia Huidobro (dance & choreography) brings to London her traditional flamenco homage, by interpreting Violeta's unfinished work "El Gavilan" or "Sparrowhawk". Early in her career, "Violeta de Mayo" sang zambras, farrucas and sevillanas with a company in Santiago for which she was awarded her first ever prize. Accomplished flamenco artists Jose Almarcha (guitar), Javier Macias (voice) & Demi Garcia Sabat (percussion) accompany.
This event is supported by the Embassy of Chile to the United Kingdom and by the Anglo-Chilean Society.
---
JEAN PAUL SAMPUTU
Wed 18th Oct, 7.45pm (doors 7.15pm), Sands Films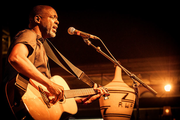 Jean Paul Samputu sings in six languages and in styles ranging from soukous and rhumba, to traditional Rwandan 5/8, Afrobeat, pygmy and gospel. Winner of the Kora Award (the "African Grammy") in 2003, he travels the world as a cultural ambassador, bringing to his audiences not only traditional African singing, dancing and drumming, but also a message of peace and reconciliation. A survivor of the genocide in Rwanda, he takes us to the most positive place of humanity through his spirit and graciousness.
---
UXÍA
Wed 1st Nov, 7.45pm (doors 7.15pm), Sands Films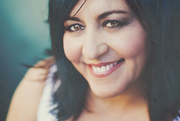 Uxía, 'the voice of the Atlantic', much-loved ambassador of Galician music & poetry, lends her powerful, earthy vocals to renew Galician traditional music connecting it with other Atlantic cultures: Galician alalas blend with morna, fado & Brazilian rhythms. She'll be joined by Brazilian Sérgio Tannus (guitar, viola caipira, Brazilian pandeiro).
---
MARY ANN KENNEDY
Wed 15th Nov, 7.45pm (doors 7.15pm), Sands Films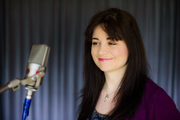 One of Scotland's most influential musical figures, Mary Ann Kennedy, has stepped forward as a solo artist after a 30 year career with 'An Dàn', an album of original Gaelic songs. Urban Gael, now Highland resident, Mary Ann's music is the modern-day voice of this her native language: stories & people brought to life with passion & contemporary relevance.
---
TELL TALE TUSK QUARTET
Wed 29th Nov, 7.45pm (doors 7.15pm), Sands Films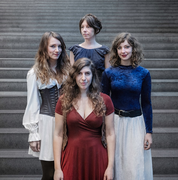 Tell Tale Tusk Quartet are an ensemble that reimagines folktales old & gives light to folktales new. With a nod to the sailing of the Mayflower, nearly 400 years ago, they combine their award-winning 3-part vocal harmonies with melodious instrumentals. Expect highly crafted harmonies, virtuosic voice blending and creative license.
Tell Tale Tusk Quartet's website
---
CANDLELIT & CLASSICAL:
HARRIET MACKENZIE, PHILIPPA MO, CELONIATUS ENSEMBLE
Sat 9th Dec, 7.45pm (doors 7.15pm), St Mary's Church, Rotherhithe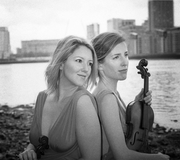 A sparkling, candlelit programme including gems from the Baroque repertoire such as the Bach Double violin concerto, Corelli Christmas Concerto, juxtaposed with the heat of Argentinian Tango with the Piazzolla's 'Four Seasons of Buenos Aires'. Acclaimed violinists Harriet Mackenzie and Philippa Mo, both Londoners, perform regularly around the world, and in this performance bring their exquisite playing to Philippa's own neighbourhood.
Philippa's page on their Retorica duo website
---
PLASTIKES KAREKLES
Wed 13th Dec, 7.45pm (doors 7.15pm), Sands Films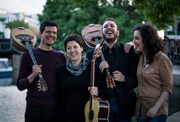 An eclectic fusion of international & Greek musicians with roots from traditional Greek folk to classical and jazz. Known for their own arrangements of music by Theodorakis, Hadjidakis and Xarhakos featuring a fusion of classical stringed instruments with Greek traditional ones, they celebrate rebetiko music that emerged in the 20s and ranges from anti-establishment songs and laments to beautifully melodic love songs.
---
Nearest station: Rotherhithe Overground 2 mins
Buses: 381, C10, 188, 47
Info: tel 07595 154601
Join the mailing list: tunedin.london@gmail.com
Tuned In London on Facebook
On Twitter @TunedInLDN
tunedin.london on Instagram