WOOD ESSENCE TRIO
Wed 7th Jun, 7.45pm (doors 7.15pm), Sands Films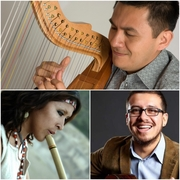 Phaxsi Coca, Camilo Menjura and Diego Laverde combine three elements whose essence is that of wood, strings and bamboo: traditional pipes from the Andes including sikus and qenas, the guitar and the dulcet sounds of the "arpa llanera" harp whose fiery & energetic rhythms of the "joropo" melodies represent the plains that straddle Colombia and Venezuela. The Indigenous, European & African heritage of the people of this region is reflected in the warm & joyful rhythms played by these acclaimed musicians from Bolivia and Colombia.
The trio on Youtube in a recent performance.
---
SHE'KOYOKH
Midsummer Special
Wed 21st Jun, 7.45pm (doors 7.15pm), Sands Films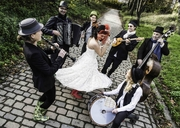 "Among the finest klezmer ensembles on the planet" (The Australian). Touring their fourth album 'First Dance on Second Avenue' - a journey across Eastern Europe and beyond, She'Koyokh starts out in 1950s New York and finishes up in a Turkish sauna, via Romanian mountains & Serbian villages, featuring klezmer, virtuosic Balkan dances & soulful songs from Albania, Armenia & Bulgaria.
---
KALIA
Wed 5th Jul, 7.45pm (doors 7.15pm), Sands Films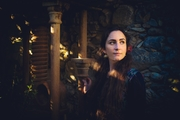 Singer, songwriter and song-collector, Kalia, presents contemporary music of her Cretan homeland. Vassilis Chatzimakris (Cretan lyra & mandolin), Nikos Ziarkas (Cretan laouto & electric guitar), and Theodoris Ziarkas (double bass) make up her quartet. Kalia herself sings and plays nay, thiaboli, mandoura pipes and daoulaki. Fast and furious dances blend with soulful laments in original compositions and innovative arrangements from one of the most dynamic living music traditions in the Eastern Mediterranean today.
---
HANITRA
Wed 19th Jul, 7.45pm (doors 7.15pm), Sands Films
"One of Madagascar's true musical icons" (R2 Magazine), singer and guitarist Hanitra is making waves and on tour with her latest album "Lasa". Her seasoned vocals rise and fall effortlessly through an ever-changing landscape as she melds tradition with contemporary issues in her songs, both in homage to all women and one woman in particular, French-Canadian singer Lhasa de Sela.
---
Nearest station: Rotherhithe Overground 2 mins
Buses: 381, C10, 188, 47
Info: tel 07595 154601
Join the mailing list: tunedin.london@gmail.com
Tuned In London on Facebook
On Twitter @TunedInLDN
tunedin.london on Instagram